Prokofiev Alexander Nevsky - Fritz Reiner Conducts the Chicago Symphon
Customer Reviews
Write a Review
Ask a Question
03/09/2021
Daniel G.

United States
The best in every way
The HDDT catalogue now has three recordings of Nevsky. All I will ever need is Reiner's. Beneath his uncanny control of every nuance in this miraculous score, there is passion bordering on fury. If that were not enough, he has clearly the best orchestra and by a mile and a half the best chorus. (Even though they sing the Russian parts in English, they sound and feel like Russians, and their Crusaders are flat out terrifying). This has always been a demonstration recording, but no prior issue comes close to HDTT's transfer. By comparison, Shippers is sloppy and Ormandy is both incomplete and lackadaisical. And, purely as sound, neither recording comes close to the Layton/Mohr Living Stereo for clarity, impact, dynamic range and realistic space. This is the one to have.
02/19/2021
Mathias H.

Sweden
A solid performance
This is a solid performance and the transfer has great impact and bottom end.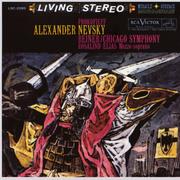 02/17/2021
Daniel G.

United States
Heroic
Set aside Stalin's politcal/propagandistic subtext for the movie Prokofiev so brilliantly scored. Just revel in some of the best orchestral/choral writing and performing ever captured in the recording "can" and flawlessly at that. The CSO and Margaret Hillis' legendary CSO Chorus outdo themselves, and Reiner's expected uncanny skills are enriched by what feels like genuine passion. It doesn't even matter that all the Russian text is sung in English. Short version, from the still terrors of a Russian winter, to the Crusaders in Pskov (next to whom Darth Vader is a complete wuss) and the hair-raising Battle on the Ice, this is something to treasure all round .
Prokofiev Alexander Nevsky - Fritz Reiner Conducts the Chicago Symphony Orchestra (Redux)
HDTT11531
Description:
Title: Sergei Prokofiev: Alexander Nevsky
Artist(s): Fritz Reiner & The Chicago Symphony Orchestra
Rosalind Elias (Mezzo-Soprano)
Margaret Hillis, Chorus Director 
Recording Info: Recorded by RCA 1958 at Chicago Symphony Hall
Producer: Richard Mohr       Engineer: Lewis Layton

Play Sample Tracks