Grant Green - Street Of Dreams
Customer Reviews
Write a Review
Ask a Question
03/02/2021
Byron .

United States
Superb job on one of my favorite albums
This is one of my top 5 favorite albums. I listen to it regularly. I know it inside and out. I've had it in high res for several years but decided to purchase based on the reviews and rearranging my system I wanted something to test it out. As soon as the sound came through my system I knew that a new window was opened up to my grasp of this work. The clarity of the drums and crystal cymbals is unreal. Just makes me want to get more!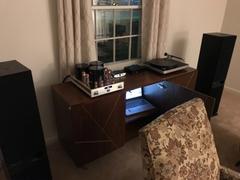 07/11/2019
Mathias H.

Sweden
Well done!
Simply amazing how right and natural this version sounds like. Probably as good as this 60's recording ever will get. Street of Dreams has been one of just a few RVG titles that I have kept ... Now great has become excellent. If you like Grant Green, and particularly this album, you can't go wrong. Recommended.
Smooth
Really really nice. It's different from the RVG remaster, so I feel justified in buying this, even though I had it in CD form already. I don't dislike the RVG, but this transfer is probably much closer to what was intended in the original recording. I bought the single DSD version, and I think this is a great example of what a DSD transfer should sound like. I'd say it's essential if you like Green. And is there a better conceivable group of sidemen than Young, Hutcherson, and Jones?
Grant Green - Street Of Dreams
HDTT8131
Description:
Title:  Street Of Dreams
Artist(s): Guitar – Grant Green
Drums – Elvin Jones
Organ – Larry Young
Vibraphone – Bobby Hutcherson
Recording Info: Transferred from a 15ips 2-track tape
Recorded on November 16, 1964, at the Van Gelder Studio, Englewood Cliffs, New Jersey for Blue Note Records
Engineer – Rudy Van Gelder
Producer – Alfred Lion

1. I Wish You Love 8:40
2. Lazy Afternoon 7:35
3. Street Of Dreams 9:00
4. Somewhere In The Night 8:00
Play Sample Tracks