Rachmaninoff Symphony No. 1 Ormandy & Tchaikovsky Romeo & Juliet Overt
Customer Reviews
Write a Review
Ask a Question
Rachmaninoff Symphony No. 1 Ormandy & Tchaikovsky Romeo & Juliet Overture Munch
this is a great record. the rachmaninov 1 is romantically gorgeous. the ormandy's interpretation is brilliant. the performance is wonderful. eXcellent recording and transfer. B.XL.
04/14/2021
Mark P.

United Kingdom
Rachmaninov's Favourite Orchestra - who better?
It was said that Rachmaninov's favourite orchestra was the Philadelphia and so who better to perform the magnificent, early First Symphony (composed 1895) than that orchestra, under the baton of Eugene Ormandy? It was after all Ormandy who shared the conducting of the same orchestra in the composer's own piano concerto recordings with Stokowski three decades before the present symphony recording was made. While those recordings (available elsewhere) still sound good for their age, this 1966 recording, as remastered for a second time by HDTT, makes for a fabulous representation of the best Columbia/CBS sound of the still relatively early stereo era and what was billed at the time as 'The Fabulous Philadelphia Sound'. The First Symphony is probably the least played of Rachmaninov's three. The music is generally very approachable and listeners in the UK may possibly recognise the superbly arresting opening of the finale as once being the opening theme of the 1960's BBC TV current affairs 'Panorama' hosted by Richard Dimbleby. Several excellent recordings of the work exist, having gained very favourable reviews, but none, in my view, surpass Ormandy's, all things considered. I downloaded the 24/96 version of the present album and compared this directly with HDTT's previous release: consistently, at various reference points in the music, the new release here is the clearer, the spacing around instruments being slightly more distinct/natural to my ears. If anything, I thought differences were more pronounced in the Romeo & Juliet recording. I should say though that all of this is within a relatively marginal parameter to begin with. Buy with confidence, but if you have the previous HDTT release, you may want to consider carefully if buying this for a second time. I did, but have no regrets at all. The third and final version of Tchaikovsky's Romeo & Juliet (completed only some 15 years before the Rachmaninov) - the one most classical music lovers would recognise - is the version here. An exciting performance under Charles Münch from another top US orchestra who traditionally yielded little in terms of virtuosity and musicianship to their colleagues in Philadelphia. Carefully pronounced opening low woodwind chords lead to the most romantic of themes later, set against gripping statements from the full orchestra. If you listen carefully enough, you can even hear where the unison trumpeters snatch a breath when it's their turn to take the lead over the orchestra at around 12 minutes into the music, such is the clarity at that point achieved by RCA engineers at the time, now with additional help from HDTT. All in all very satisfying. Great music, well played in freshly remastered sound from an open reel tape source.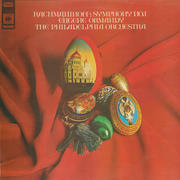 Rachmaninoff Symphony No. 1 Ormandy & Tchaikovsky Romeo & Juliet Overture Munch (Redux)
HDTT11777
Description:
Title: Rachmaninoff: Symphony No. 1 & Tchaikovsky: Romeo & Juliet Overture
Artist(s): Rachmaninoff: Eugene Ormandy & The Philadelphia Orchestra
Tchaikovsky: Charles Munch & The Boston Symphony Orchestra
Recording Info: Rachmaninoff Released by Columbia 1967
Producer – Thomas Frost
Tchaikovsky Released by RCA in 1962
Engineer Lewis Layton     Producer – Max Wilcox

Symphony No. 1 In D Minor, Op. 13
1 Grave; Allegro Ma Non Troppo 13:34
3 Larghetto 8:42
4 Allegro Con Fuoco 12:20
5 Romeo & Juliet: Overture-Fantasy 19:05
Play Sample Tracks